Jurassic World: Dominion Dominates Fandom Wikis - The Loop
Play Sound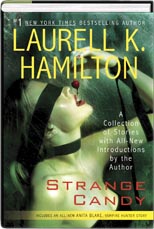 "Those who Seek Forgiveness" is a short story by Laurell K. Hamilton. The story was featured in the Strange Candy anthology along with several other short stories by the same author. The other stories that are set to Anitaverse are "Selling Houses" and "The Girl who was Infatuated with Death."
This was the first Anita Blake story that Hamilton ever wrote, long before the idea of Anita being a legal vampire executioner was born.
Timeline
[
]
Given that this is the original installment, the timeline doesn't entirely match with that mentioned in the main novels. Anita mentions in Dead Ice that vampires became legal citizens while she was on her senior year in college, but here she seems to be working full-time despite vampires not being legal yet.
Synopsis
[
]
The story highlights what can go wrong with raising the dead.
Plot
[
]
Mrs. Fiske has an appointment in order to get her husband Arthur back -- preferably as a vampire, even if they are illegal, but a zombie will do for lack of better options when she learns that vampire isn't an option, whatever the rumors say. She tells Anita it's for seeking forgiveness for infidelity. Later, at the graveyard, when Anita raises Arthur at her 9 pm appointment, she learns that he didn't die of heart attack as claimed, but was shot from close range by his wife, who regrets the deed. When informed by Anita, Mrs. Fiske is initially accepting of the fact that murder victims always kill their murderers, but has a change of heart when faced with reality. However, Anita is ultimately unable to prevent Arthur's zombie from crushing Mrs. Fiske's neck. Afterwards Anita is able to put the zombie back to rest, and leaves Mrs. Fiske's corpse lying on the grave while leaving to sort out the mess she made of Anita's night on both emotional and practical level.
Characters
[
]
Mrs. Carla Fiske, client who wants her husband Arthur raised as a zombie
Mary, receptionist at the animator company (unnamed, but presumably an early version of Animators, Inc., which would make her an early version of the day secretary Mary)
Mr. Arthur Fiske (deceased)
Mentioned
[
]
Anita's boss, presumably an early and unnamed version of Bert Vaughn
Dr. Richard Norris, Anita's first research scientist (deceased)
three colleagues of Dr. Norris who need his help with his notes, Anita's second raising scheduled for the night at midnight
Mrs. Stiener who has issues her deceased husband's will, Anita's third raising scheduled for the night at 3 am.
Death toll
[
]
Mrs. Fiske, killed by her husband's zombie in revenge for killing him