Jurassic World: Dominion Dominates Fandom Wikis - The Loop
Play Sound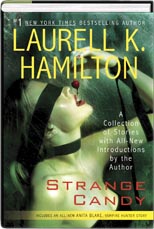 "Selling Houses" is a short story by Laurell K. Hamilton. The story was featured in the Strange Candy anthology along with other short stories by the same author. The other stories that are set to Anitaverse are "Those Who Seek Forgiveness" and "The Girl who was Infatuated with Death." Although set in Anita Blake's world, Anita herself does not appear in "Selling Houses."
Timeline
[
]
Next year from so-called Bill of Life that widened the definition of life to include some forms of the living dead, which happened two years before Guilty Pleasures. In comparison, "Those Who Seek Forgiveness" is set before the law changed, although the timeline there has some conflicts. "The Girl who was Infatuated with Death" is set years later.
Synopsis
[
]
How does a real estate agent deal with selling houses to vampires, now that they are legal citizens?
Plot
[
]
Abbie has a house to sell, even if there has been a mass murder with the official cause of demon possession, even if the exorcism hasn't quite cleansed the house of the taint of evil. When she goes to inspect the house, she discovers the cleanup crew has barely made any effort to get rid of the sings of the massacre. When she attempts to do a bit of cleaning herself, though, unable to leave a bloody handprint of the five-year-old Brian Garner behind, the blood wipes out as if it is fresh, and the handprint reappears on the back door as if she had never tried to clean it at all. She also hears small feet running towards the basement where Brian Garner spent his last moments, and realizes there's a ghost to deal with, and not a nice, romantic one some people like to keep around as a conversation point either.
It takes weeks to get the house re-blessed and refurnished, and a medium to tell the ghost it's dead and encourage it to move on, but when Abbie visits next the house feels clean and new. It's encouraging, and even more so is the fact that there's an interested buyer. Apparently a Mr. Channing and his family have had a hard time trying to find anyone willing to sell them a house. When they come over for a viewing that night, Abbie mistakes Rick and Isabel as Mr. Channing and his wife, when in fact Channing is the teenager vampire leading them.
Abbie doesn't know much about vampires, but she's determined to sell the house to these people, and is perfectly willing to sell other houses to other vampires afterwards if opportunity presents itself. She's a bit nervous, but tries not to show it, and does a credible job of presenting the house despite not being sure what is fact and what is fiction. The clients aren't chatty, so she doesn't get a lot of feedback either, but at the end of the viewing Channing and his companions decide to take the house and want to move in next week already, if possible. Abbie is more than happy to close the deal, no matter what the neighbors might think of the new occupants.
Characters
[
]
Abbie McDonnell, a real estate agent
Brian Garner, five-year-old son of the slaughtered former occupants, ghost
Sandra, colleague of Abbie, sold the house to Garners, kind sort of gossip, blue eyes
Charles, Abbie's husband, understanding but worries
Channing, looks about fourteen, dark brown eyes, thick chestnut hair, vampire, leader of the group
Rick, well over 6 feet tall, blue eyes, thick chestnut hair, presumably vampire
Isabel, only a bit shorter than Rick, blond hair, artist, presumably vampire
Mentioned
[
]
Marion Garner, former buyer and occupant of the house (deceased)
Jessica Garner, daughter, two weeks short of two years old (deceased)
Phillip Garner, husband, played with Ouija board, got possessed by a demon and slaughtered his family before killing himself (deceased)