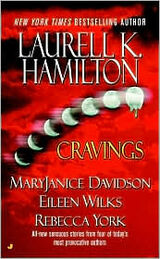 Blood Upon My Lips a.k.a. Beyond the Ardeur is excerpt from the opening of Incubus Dreams by Laurell K. Hamilton , published as a short story in the Cravings anthology, together with three other stories by different autors
This is a condensed and slightly modified version of the first 13 chapters (95 pages) from Incubus Dreams. It leaves out a lot of parts that don't specifically have to do with the ardeur, making slight modifications to the story to allow it to flow smoothly without the missing pieces.
Synopsis
[
]
Beyond the Ardeur uses the setting of a wedding to bring back virtually the entire cast of characters from her popular series about necromancer Anita Blake. While Hamilton's fans will enjoy revisiting these night creatures, some may be disappointed to find that this tale is all sex and no slaying; the only mystery is which paranormal hunk(s) will satisfy Anita's ardeur.
Characters
[
]