Affliction is book number twenty two in the Anita Blake: Vampire Hunter series of horror/mystery/erotica novels by Laurell K. Hamilton. The book was released in July 2013.
Synopsis
[
]
Book description
[
]
"Some zombies are raised. Others must be put down. Just ask Anita Blake.
Before now, she would have considered them merely off-putting, never dangerous. Before now, she had never heard of any of them causing human beings to perish in agony. But that's all changed.
Micah's estranged father lies dying, rotting away inside from some strange ailment that has his doctors whispering about "zombie disease."
Anita makes her living off of zombies—but these aren't the kind she knows so well. These creatures hunt in daylight, and are as fast and strong as vampires. If they bite you, you become just like them. And round and round it goes…
Where will it stop?
Even Anita Blake doesn't know."
Author's website
[
]
It's a typical day at work for Anita Blake, if your day job is raising the dead, and being a U. S. Marshal for the preternatural branch. One phone call changed everything. It was from the mother of one of her live-in boyfriends. Micah Callahan's father was in the hospital and he was dying. Micah had been estranged from his family for years, but now, his mother wants Anita to bring the prodigal son home for a last good-bye.
Anita thinks it's going to be a tearful trip down memory lane, until she learns that Sheriff Callahan was attacked on the job by a zombie. The bite is rotting him from the inside out, as if it's turning him into a zombie while he's still alive, but Anita knows zombies and they aren't contagious. But something is killing Micah's father, and he's not the only victim. And there are the missing persons, far too many to explain away. While Micah deals with his family, Anita is pulled into a case so terrible she has to call for back up from friends and lovers that are no more human than the some of the monsters they're hunting, and even that isn't enough. Edward, Death himself, comes with badge and flamethrower to watch over his friend, Anita Blake, while she fights for her life and the lives of those she loves.
Official trailer
[
]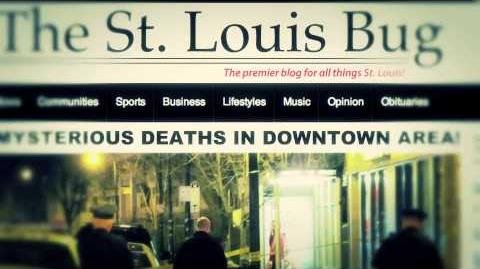 Plot
[
]
Anita receives a phone call of Micah's distressed mother, asking her to please come visit, because his father, Rush Callahan, is dying.
After making arrangements Micah decides he needs to take Nathaniel along, he will introduce him as their significant other. Of course guards are needed, which include Nicky, Dev, Domino, Bram, Ares & Lissandro.
Anita & Micah learn upon their arrival that Rush has been bitten by a rotting zombie.
After some family conflict with Micah's aunt, they go to his mother's house where they meet his siblings, which causes Micah's mother having to explain that she, Rush and Ty (Micah's stepfather) have a similar relationship as to Micah, Anita & Nathaniel's.
While Anita and all the law enforcement agents present go vampire/zombie hunting, Ares is bitten by one of the rotting zombies. While trying to transport everyone out with a chopper, Ares loses control and starts killing. Once on the ground Anita kills Ares, but a bullet that went through him, hit her, making her gain hyena.
Jean-Claude arrives in town and asks her to marry him after mentioning that if there was a way for all of them to get married, he would. As Micah had said this earlier to her and Nathaniel, she accepts. Still having to practicallities of such a ceremony this is later put on hold when plenty of her lovers are disappointed they would not be getting a ring.
Some of the methods of how Micah gets other animal groups to join to Coallition are mentioned: just talk, and softer methods of persuasion but also fights for dominance.
When Edward arrives he mentiones trying to set a date for his marriage and asks Anita to be his best man.
They learn that the source behind the rotting zombies is Morte D'Amour, who was presumed dead but took some of Marmee Noire's power into him, her necromancy.
Anita outmonsters him at a cemetary.
There is no specific time marker in Affliction, but it takes six months or more later in the same year as Kiss the Dead (May), which would place it November or December.
Time markers:
Other time-related information:
Anita Blake is 30 years old. Affliction, chapter 24. Note that Anita's age in the novels has some inconsistencies, and she has been 30 years old for more than a year since Hit List; see the inconsistencies section of the Timeline article.
Micah Callahan is 30 years old. Affliction, chapter 19.
Nicky is 31 years old. Affliction, chapter 22.
Jean-Claude is over 600 years old. Affliction, chapter 03 and chapter 39.
Mephistopheles aka Dev is 23 years old. Affliction, chapter 14.
Beth, Micah's sister, is 22 years old. Affliction, chapter 14.
Twain, Micah's half-brother, is 14 years old. Affliction, chapter 14.
Hawthorne, Micah's half-brother, is 12 years old. Affliction, chapter 14.
Frost, Micah's sister, is 6 years old. Affliction, chapter 14.
Fen, Micah's brother, is 4 years old. Affliction, chapter 14.
Peter Parnell in 18 years old. Affliction, chapter 82.
Characters
[
]
Main Characters
[
]
Recurring Characters
[
]
Mephistopheles aka Dev, accompanies Anita as a bodyguard
Ares, accompanies Anita as a bodyguard
Bram, accompanies Anita as a bodyguard
Ethan, was going to accompany Anita as a bodyguard, but ends up staying in St. Louis
Mary, receptionist at Animators, Inc.
Asher (mentioned)
Emmanuel
New characters
[
]
Micah's family:

Rush Callahan - Micah's father who is gravely ill, a sheriff
Beatrice "Bea" Morgan - Micah's mother
Ty Morgan - Micah's stepfather
Jeremiah "Jerry" Callahan - Micah's brother
Beth Callahan - Micah's sister
Twain Morgan - Micah's half-brother, Bea and Ty's son
Hawthorne Morgan - Micah's half-brother, Bea and Ty's son
Frost Morgan - Micah's sister, Bea and Rush's son
Fen Morgan - Micah's brother, Bea and Rush's son
Micah's extended family, mother's side:

Bertha "Bertie", Micah's aunt, Bea's sister, married to Jamie, Essie's mother, a member of the Shepherds of the Flock
Jamie, Micah's uncle, married to Bertie, Essie's father, a member of the Shepherds of the Flock
Esther "Essie", Micah's cousin, daughter of Bertie and Jaime
Micah's extended family, father's side:

Juliet, Micah's cousin, Bobbi's daughter
Jody, Micah's aunt, Bobbi's twin sister, Rush's sister, runs a farm, lives with her significant other Ginger Dawson
Bobbi, Micah's aunt, Jody's twin sister, Rush's sister, Juliet's mother, a lawyer
Monty, Bobbi's husband, a judge
Ginger Dawson, Jody's significant other of five years
Micah's grandfather and Rush's father, saw Ty kiss Rush's hand at the hospital and does not approve
Micah's grandmother and Rush's mother, also does not approve of Ty and Rush
Local law enforcement in Colorado:

Deputy Albert "Al" Truman, went to high school with Micah
Sergeant Michael Horton, a Colorado state trooper
Sergeant Ray Gonzales, with the Boulder PD
Detective Rickman "Ricky"
Deputy Gutterman
Commander Walter Burke
Corporal Price
Detective Connor, Rickman's partner
Ranger Becker
Travers, friends with Little Henry
Officer Bush, with the Boulder PD, vomits when the first body is found
Pete, presumably a Ranger like Becker, killed by zombies
Officer Connors, makes inappropriate comment about Anita's bra and panties when Ares is wounded
Officer Perkins, medic
Lawrence, chopper medic
Marshal Susan Hatfield, a preturnatural marshal who receives the warrant of execution
Yancey aka Swan, a member of SWAT who visits the hospital in support of Anita, spoke with Hermes of St. Louis SWAT
Carmichael
Baker, injured in the zombie attack and killed in the helicopter incident
Billings, injured in the zombie attack and had his hand torn off in the helicopter incident
Detective Robert "Bobby" MacAllister
Captain Jonas, of Boulder PD
Jenkins
Deputy Marshal Chapman, Hatfield's former boss when she was a regular Marshal
Detective Foster
Machet aka Machete, a member of SWAT
Wilson aka Willy, a member of SWAT
Sergeant Brock aka Badger, a member of SWAT
Lindell aka Paris, a member of SWAT
Shrewsbury aka Berry, a member of SWAT
Vampires in Colorado:

Fredrico, the Master of the City, an ex-conquistador
Alfredo "Alfie", meets Anita and team at the airport
Dr. Cross, attends Anita in the hospital
Other characters in Colorado:

Dr. Rogers, attends Rush Callahan in the hospital
Dr. Shelley, coroner at the hospital
Henry Crawford, goes missing while searching for a missing hiker
"Little Henry" Crawford, an EMT, goes missing while searching for a missing hiker
Macintosh "Mac", hospital security
Miller, hospital security
Dr. Aimes, attends Little Henry in the hospital
Brenda, a nurse who attends Little Henry in the hospital
Other characters from St. Louis:

Brunhilda "Nilda" - a werebear and a former member of the Harlequin, she is initially assigned to be one of their bodyguards but stays in St. Louis after a breakdown
Mischa aka Graziano, a vampire and a former member of the Harlequin, he has sworn to Jean-Claude
Goran, a werebear and a former member of the Harlequin, Mischa's animal to call
Seamus, a werehyena and a former member of the Harlequin, Jane's animal to call
Jane, a vampire and a former member of the Harlequin, Seamus's master
[

]